Concussions and serious head injuries are one of things you don't mess around with in sports, whether it be professional athletes or high school sports. Many times, concussion symptoms sneak up on athletes hours after the blow. Because of this, it is easy for an athlete to assume they are safe to continue playing after the incident.
These issues concerned the Reebok Advanced Concepts team when studies linked repeated head injuries to serious mental disorders in 2008. The team initially began to design a helmet with inserted padding to slow the collision's impact, but realized that in sports, collisions aren't linear forces. The user's head would still bounce within a helmet regardless. The team switched their design direction from lessening impact to measuring and gauging impact. They joined forces with the Boston technology firm MC10 (who develops flexible, wearable electronics) to create the Checklight.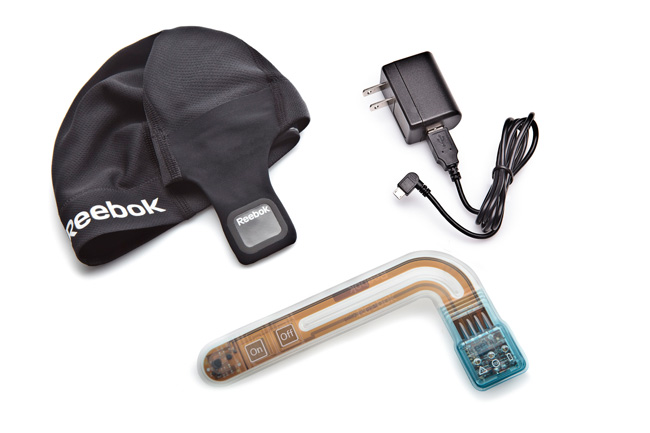 Reebok's Checklight is essentially a black skullcap with an electronic impact monitor inside that assesses the force of a collision. It is designed to be worn alone, or underneath a helmet. The LED monitor at the tail end either blinks green, meaning circumstances are normal, or yellow or red, meaning the wearer has sustained a moderate to severe blow. This light stays blinking until the device is manually reset on the side. One unit costs $150. Reebok makes it clear that Checklight doesn't prevent the concussions from happening, or that a red light always indicates a concussion. Rather, it is a monitor helps advise the wearer when they should potentially seek medical help, or as the product description says, "it is designed to lead athletes on a pathway to assessment."
Checklight is not the first of its kind, and there are other solutions like it currently being tested. IQ HITS was a concept being explored by Riddell, where sensors where installed into the helmet, but each helmet cost $1,000 and needed trainers to interpret data on the sidelines. The xPatch from X2 Biosystems is a small electronic device that can easily be attached by adhesive tape to the side of the wearer's head. It sends data wirelessly to coaches and trainers via a phone app, showing how serious the collision was to the player.
In the product design world, 'wearable technology' has become a buzzword that has pertained to fitness trackers and smart watches. Reebok and other companies are expanding that perspective by bringing the category into the realm of contact sports as well as medical devices.
…………………………………………………
Las conmociones cerebrales y lesiones graves en la cabeza son cosas con las que no se juega en los deportes, se trate de deportistas profesionales o de deportes en la escuela secundaria. Muchas veces, los síntomas de una conmoción cerebral aparece sigilosamente en atletas horas después del golpe. Es por esto que  para un atleta es fácil asumir que pueden continuar de forma segura después del incidente.
Estos asuntos les llamaron la atención al equipo Reebok Advanced Concepts cuando ciertos estudios en 2008 vinculaban las repetidas lesiones en la cabeza con trastornos mentales graves. El equipo inicialmente comenzó a diseñar un casco con un relleno insertado para disminuir el impacto de la colisión, pero se dieron cuenta que en los deportes, las colisiones no se producen con fuerzas lineales, la cabeza del usuario sigue rebotando independientemente dentro de un casco. El equipo cambió su dirección de diseño de disminuir el impacto a medir y calibrar el mismo. Unieron esfuerzos con la firma de tecnología de Boston MC10, quienes desarrollan sistemas electrónicos portátiles y flexibles, para crear el Checklight.
El Checklight de Reebok es esencialmente un gorro negro con un monitor electrónico de impacto que evalúa la fuerza de una colisión. Está diseñado para ser usado solo o debajo de un casco. El monitor LED, en el extremo de la cola, o bien parpadea en verde, lo que significa que las circunstancias son normales, o amarillo o rojo, avisando que el usuario ha sufrido de un moderado a golpe severo. Esta luz se queda parpadeando hasta que el dispositivo se reinicia manualmente. Una unidad cuesta 150 dólares. Reebok aclara que Checklight no impide que las conmociones cerebrales sucedan o que una luz roja indique que siempre hay una conmoción cerebral. Más bien que se trata de un monitor que ayuda y aconseja a los usuarios cuando potencialmente deben buscar ayuda médica o, como la descripción del producto lo indica: "que está diseñado para llevar a los atletas por un camino hacia la evaluación."
Checklight no es el primero de su tipo, hay otras soluciones como se están probando actualmente. IQ HITS  fue un concepto que se exploró por Riddell, con sensores instalados en el interior del casco, pero cada casco cuesta $ 1.000 y se necesitan entrenadores para interpretar los datos de los displays. El xPatch de X2 Biosystems es un pequeño dispositivo electrónico que se puede conectar fácilmente con cinta adhesiva a un lado de la cabeza del usuario. Envía los datos de forma inalámbrica a entrenadores y preparadores físicos a través de una aplicación de teléfono, mostrando la gravedad de la colisión para el jugador.
En el mundo del diseño de productos, 'wearable technology' (tecnología para portar) se ha convertido en una palabra de moda que ha pertenecido a los seguidores del 'fitness' y los relojes inteligentes. Reebok y otras empresas están expandiendo esa perspectiva, trayendo esta categoría a los deportes de contacto y el ámbito médico.
…………………………………………………
Information | Información:
Reebok Checklight 
www.reebok.com
How Reebok Is Tackling One Of The Sports World's Trickiest Problems | Co.Design
www.fastcodesign.com