Desiree Guedez is a young Venezuelan architect, who recently graduated from the Master of Industrial Design program at Pratt Institute, New York. She studied Architecture in the Universidad Simón Bolívar en Caracas, Venezuela.
We had the pleasure to work with her during the development of her Thesis for the Master. A work where objects emerged from a rigorous exploration on materials and processes. The Master of Industrial Design (MID) from Pratt Institute received each year professionals who mostly come from other fields of knowledge. Candidates for the Master from all over the world, about 300 a year, run for a three years experience here in Brooklyn. Professionals with degree not only in architecture, engineering or visual communication, but also in disciplines such as biology and anthropology.
We approached Desiree to know about her work.
Why Industrial Design after been involved and studied Architecture?
I became interested in Industrial design after studying and working in architecture and interior design. I realized while working on larger projects like commercial and residential buildings, that I enjoyed designing in a smaller scale, it was a natural move to go from working in architecture to industrial design where I could still apply the same design principles, but in a more hands on approach.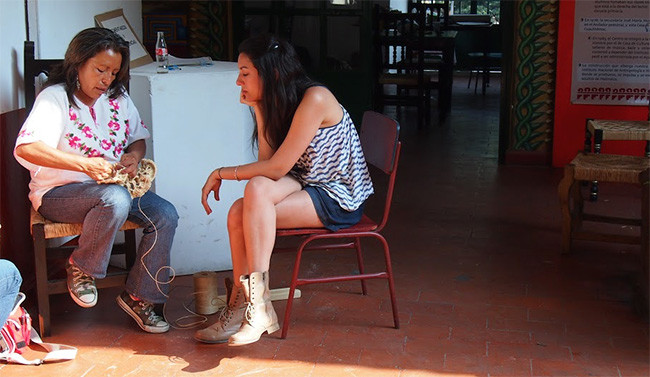 How was the experience doing the MID at Pratt?
I decided to apply to design schools outside of Venezuela to further my experience in what Industrial Design had to offer. After being accepted to Pratt Institute in New York, I was able to work in a city that is rich in design culture, and be part of a school that promotes design exploration and research. Pratt was a time for me where I could develop a better understanding of materials and process as well as find the scale I felt most comfortable working in. After 3 years at Pratt working with ceramics, wood and metal I found an interest in furniture and tabletop design. These areas allow me to have the most freedom to quickly apply new materials and processes.
Is what you doing now you expected to be doing as an industrial designer?
After leaving Pratt I continued to work with new materials and have begun to work with more naturalistic materials and processes, leading to becoming the Director of Operations of a luxury goods company where we handcraft our own products with sustainable ingredients and packaging. This position allows me to work within all areas of design such as the conceptualization of new products, the manufacturing process, and the packaging where we apply one of the main goals of the company which is to produce products in a thoughtful and environmentally conscience way.


How do you see yourself doing in the next 5 years?
In the future I will continue to incorporate sustainable practices in home goods products, and explore my interest for combining different materials and hand crafted products.
…………………………………………………
Información
Desiree Guedez
www.desireeguedez.com